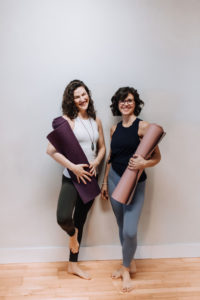 Welcome to Yoga Generation! We have two studio locations: one in Pitt Meadows and one in Coquitlam. We offer a variety of classes, including Aerial, Pilates, Infrared, Hatha Yoga, Vinyasa Yoga, Yin Yoga and teacher trainings.
Yoga Generation was founded in October 2013 by Prestonne Sehn and Nicole Whitman, who envisioned a welcoming yoga space where members could build authentic connection. Yoga Generation is much more than just a yoga and fitness studio, it is a community.
The intention of the owners and instructors is to assist students in the development of physical, mental and spiritual well-being. Yoga Generation offers a space where students are free to practice in a comfortable and judgement free atmosphere.