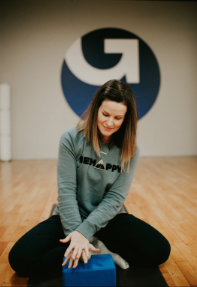 This class is perfect for those who wish to learn more about healing and preventing injuries through mindful yoga & Pilates movements.
With the exceptional rise in the popularity of yoga & Pilates over the past ten years, awareness of the practice's rehabilitative effects has increased. With that in mind, this therapy class taught by Physiotherapist Colleen Byrne, will integrate yoga, Pilates and therapy in order to benefit the body and any healing injuries. This class is perfect for students who wish to learn more about their past, present and future injuries, and how to restore & maintain optimal function in the body. Expect to move through mindful and deliberate poses & exercises that will strengthen, stretch and release chronic "problem" areas, and help you to maintain movement throughout your body.
Every Sunday from 11:00am – 12:00pm.
Each class will have an anatomical focus:
May 5th: **Class Cancelled for Teacher Training**
May 12th: Shoulders, elbows & wrists
May 19th:** Class Cancelled for Long Weekend*
May 26th: Hips, knees & ankles
June 2nd: Lumbar spine and pelvis
June 9th: Thoracic spine and shoulders
June 16th: Cervical spine and shoulders