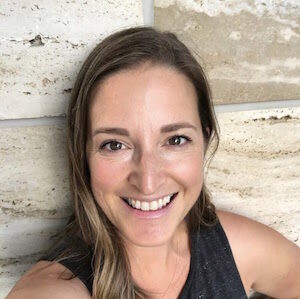 My goal as a movement teacher is to create space for exploration; a balance of ease and effort, and a focus towards the breath. 
In my class you can expect an opportunity to adapt, adjust and find what feels good in your own physical and mental practice. It is less about achieving a perfect form and more about paying attention to transitions and transformation of mind, breath and body.
I believe strongly that we instinctively know how to best support ourselves. Movement has the ability to empower from within, build personal autonomy and create community. 
I am a trained educator and spent my previous professional career focusing on mindfulness, social construct, and working with students dealing with learning disabilities, social anxiety and behavioral issues. During this time activity became a balm for me.
Redirecting my love of teaching and learning to movement was a natural transition and is my happy place.
I have training in multiple Yoga styles (Hatha, Flow, Yin and Chair) mat Pilates, TRX and barre.
When not diving into movement you can find me parenting two amazing daughters and one happy rescue dog with my husband.  
Follow me on instagram @swellbeingyoga